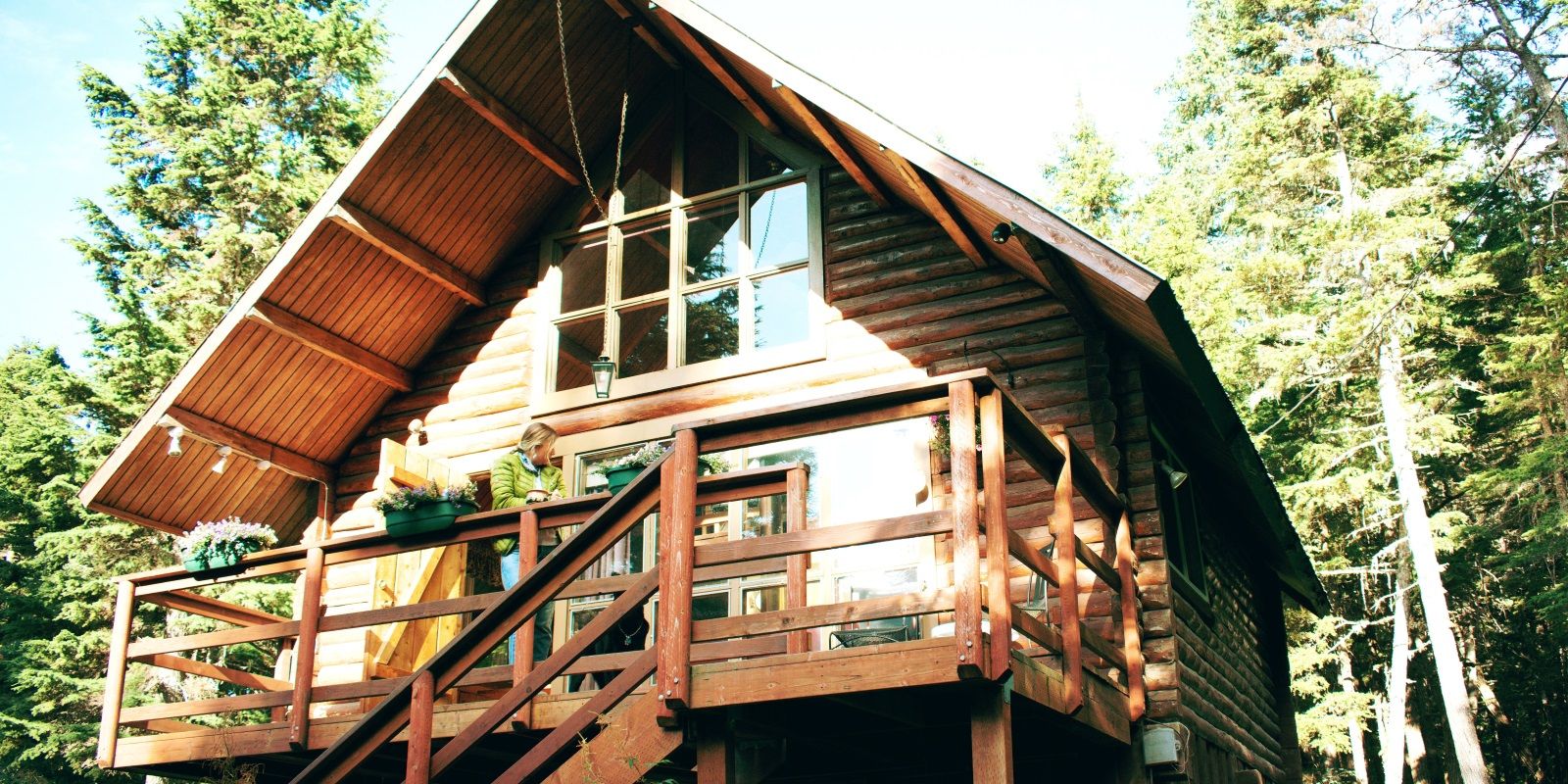 Inexpensive DIY Sauna and Wood-Burning Hot Tub Design Ideas
If you value the benefits of the sauna so much, you understand that sometimes it becomes necessary to do short periods almost daily. Now, if you have to visit a nearby sauna, this means paying out an amount every other day. Eventually, this gets expensive and may drain you financially. That is why we all have our hats off to whoever came up with the idea of making your sauna or buying one to use at home. You then enjoy all the benefits of the sauna from the comfort of your home without spending a dime. Some of these sauna devices are quite easy to design and are made from readily available materials raising the odds even more.
Rebirth Pro Cedar Barrel Sauna
This particular sauna design is readily available and has more benefits than you can imagine: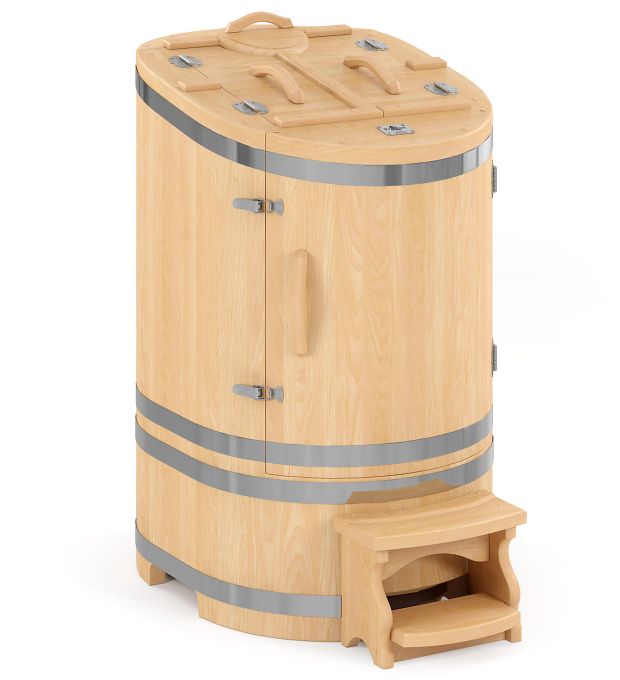 Image: Cedar Barrel Sauna. .
Adjustable seat for maximum comfort for all heights; children and adults.
Insulation is entirely done with the airtight seal preventing any heat from leaking.
Long-lasting and durable as it is made from stainless steel to prevent corrosion.
Secure entrance and stable enabled by the easy step at the door.
Easy to operate from inside with the latch to open and close.
Natural cedar input to heighten the healing properties both mentally and physically.
The DIY Sauna and Wood Burning Hot Tube Combo
Image: Sauna and Wood Burning Tub Combo. Photo taken from Homesthetics. 
This creative design features a sauna in a timber building with an extension of a hot tub on the rear side. This is double relaxation when you can decide to start with either bath.
The DIY Sauna Box
Image: Wood Box Sauna. Photo taken from MymyDIY
This is an outstanding design of a sauna featuring a box shape. It is bought and is ideal for people who cannot build wooden things with ease. It is small and compact and can fit into your house, or can be placed standing outside to be used when the need arises.
The Wood Burning Sauna in Atlanta
Image: DIY Wood Burning Sauna. Photo taken from Pinterest.
If you are looking for a sauna design that is easy to build from scratch according to your preference, the wood-burning sauna in Atlanta offers you the perfect idea. It comes with clear instructions on construction and several images to compare to. One look at the photos and you already can feel the comfort and coziness.
The Finnish Sauna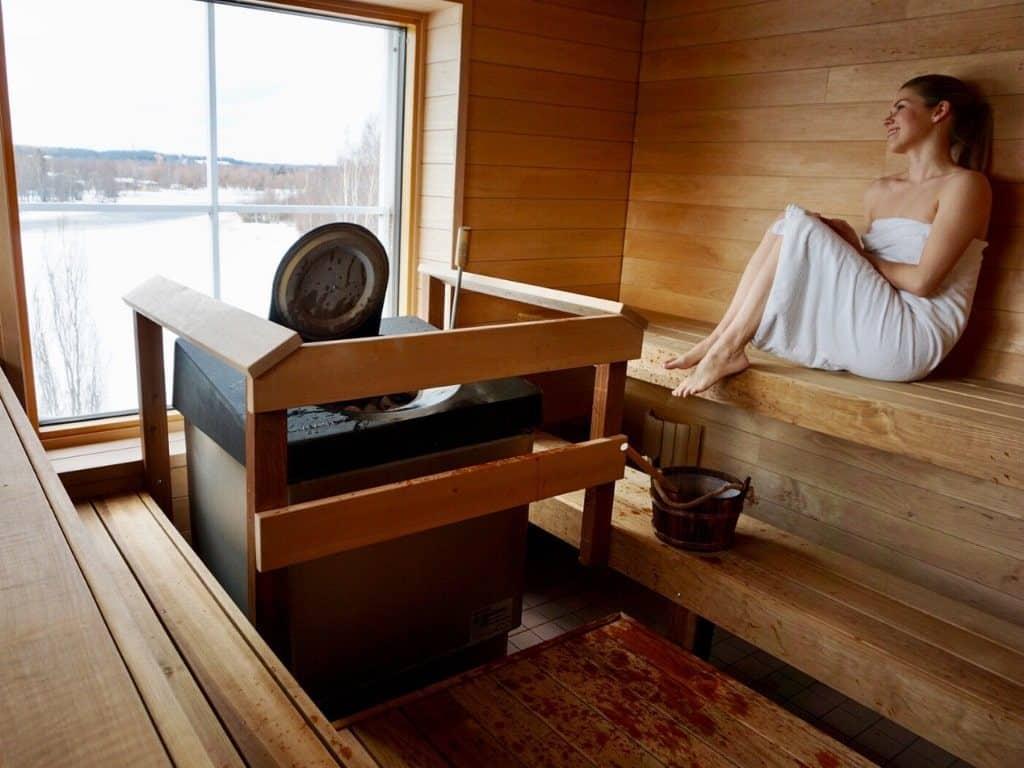 Image: Finnish Sauna. Photo taken from Her Finland.
This fantastic design works well with you if you have extra space in your home that you would transform into a sauna. Step by step images to show you how to make progress are available with the design even though the instructions are primarily dependent on the pictures.
The 6'*8' DIY Sauna Kit
Think of this design as the same with an extended bed. You can choose to buy it and install all the necessary parts, or you can want to build it from scratch with the available step by step guide. Alternatively, you can get all the required materials and get a great carpenter to put it together for you.
Custom Sauna
This is probably one of the most beautiful DIY sauna designs around. It features excellent detail and decorations on the outside and a well-organized insulated inside. Complete with an all-around detail of iron sheets on the below parts, it looks almost like a tiny hut until you get into a beautiful, cozy sauna.
The DIY Sauna With a Stove
If you are the kind of person who is star struck with a keenness to detail, here is design specially meant for you. This one even features its stove inside with stones in it ready for heating. It is spacious and comfortable and can hold more than two people, so feel free to call your friends over for a treat.
The 4'*6' Home Sauna Kit
This one is pretty and as little as the 4*6'' bed size. Perfect for indoor use, this sauna kit is easy to put up quickly and features a lovely wooden design. Complete with a chimney and a beautiful glass door, this sauna is perfect for any home.
The 5'*6' Outdoor Sauna Kit
Image: 5×6 Sauna. Photo taken from CedarBrookSauna
One look at it will get you thinking it is a small timber hut complete with a beautiful roofing system. This one is a bit larger than the previous one and is finished with the heater and chimney. It is pretty easy to put together, but you can always outsource for great carpenters.
The Wood Burning DIY Sauna
Featuring an attractively set design of sauna kit, this may be one of the most comfortable saunas to build from scratch. Complete with a wood-burning section and a chimney, this one can look good set at your backyard amid the quiet and sober environment. Clear images to show you the step by step building is available.
The 4'*5' Outdoor Sauna Kit
An amazing sauna kit that was built for the winter season is featured in this one. Well insulated and designed to retain as much as possible of the heat, this sauna can be placed at your backyard away from prying eyes since it has beautiful glass door view.
The Cedar Barrel Sauna
A beautiful design of sauna, unique and striking in its way is what you see when you meet this kit. It looks like a big barrel set on a flat surface to remain stable. If you want the better of this one, we suggest you buy it and install since it is a complicated one.
The Shed Sauna
Image: Off-Grid Shed sauna. Photo taken form Custom Line Saunas.
Turn your front gate shed into a sauna with a definite step by step guides to creating this outstanding shed sauna. It also looks like a small hut but can pretty much hold a number of people. More information on building one is available online.
The Portable Bike Sauna
Image: Portable Bike Sauna in Prague. Photo taken from DesignBoom
This is when you feel that creativity has gone over the bar. Apparently, this one has to be moved around a lot because it fits onto a bicycle backside. It is unique and designed to be portable and movable from spot to spot. It is made of translucent sides and a beautiful, comfortable inside for perfect relaxation.
Conclusion
With the availability of internet information, building your sauna should not prove difficult. You can follow the step by step instructions you find along with the specific sauna kit for effectiveness. If making one proves an uphill task as it does for most people, you can seek the expertise of experts in the field so that they build one up for you quickly. If both the above steps do not work, then why not just purchase an already made one? This will save you a lot of time and energy and still get you a sauna, only that you will not be able to customize it to your preference.
cedar barrel sauna, cedar sauna, DIY SAuna, DIY Sauna Ideas, portable Bike Sauna